Taking good care of our largest organ: Skin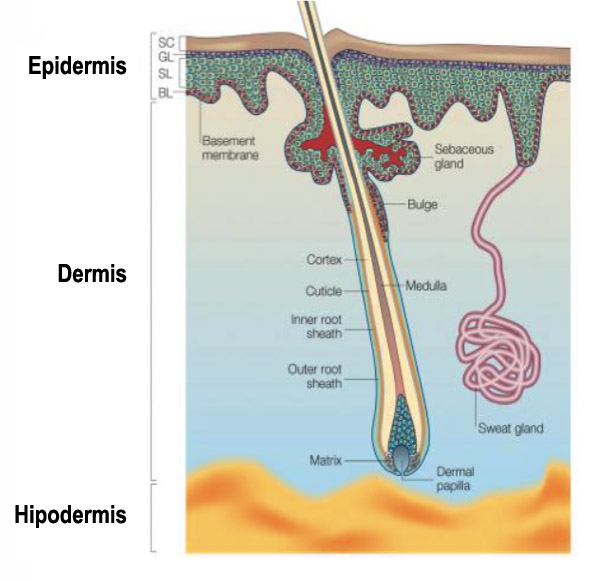 What is skin?
Skin is the largest organ in the body. It is classified as an organ because it is active, living tissue. It not only protects us from the environment around us, but it also produces several important hormones which are released into the circulation, including pigmentation hormones and vitamin D. It also helps eliminate waste through sweat and through tiny blood vessels. Skin also participates in regulating body temperature by controlling sweat production. And to keep skin moist and healthy, skin has glands called sebaceous glands, which secrete an oil called sebum.
We're in the business of healthy, radiant skin because we know what an important role it plays in our general health!
Among other functions, the skin assists the liver and kidneys in eliminating toxins. Through complex mechanisms of sending and receiving signals, our internal organs are in constant communication with our skin.
Natural ingredients for better products
We strive and are proud to use natural ingredients in our skincare formulas to bring out the natural beauty and radiance of skin. We have listed those ingredients on our website under each product's page. When you use any of our moisturizers, cleansers, serums, eye gels and scrubs we want you to feel confident that they are gentle but effective as they help rejuvenate your skin.
FreshScrub
FreshScrub helps you reveal a smoother, more radiant complexion with its wonderful 2-in-1 scrub and wash system. This invigorating formula contains anti-aging ingredients such as organic polyphenols of green tea and white tea, as well as kukui nut oil and organic olive oil. Algae extract and wild geranium extract help cleanse, while avocado oil and organic dandelion extract help moisturize and provide antioxidants.
Why FreshScrub?
Jojoba oil beads for a gentle and natural exfoliating experience.
Healing oils such as organic olive oil, avocado oil and kukui nut oil to preserve natural skin moisture and protect against free radicals.
Anti-aging properties from green tea and white tea.
Appropriate for all skin types.
FreshMud
Treat yourself to a spa-like experience at home with the purifying and hydrating power of FresnMud face mask. Deeply clarify and purify your pores while instantly hydrating and rejuvenating your skin to reveal a new radiance. FreshMud with activated charcoal, CoQ10 and French lavender essential oil & coconut oil offers a relaxing and beautifying mask at home.
Why FreshMud?
Activated charcoal binds to and helps pull dirt and other particles out of your pores helping your skin look smoother and more radiant
Coconut oil is a natural moisturizer and antibacterial without the harshness of other antibacterial ingredients
CoQ10 and organic rosehip seed offer a truly anti-aging skincare experience
FreshMoist
A new and improved formula delivers a deep, yet light-weight moisturizer that protects the skin from damaging free radicals through its antioxidant-rich ingredients. FreshMoist helps seal in moisture, condition and refresh your skin in a moisturizer that can be used daily. Soothing seed oils like sunflower and safflower help diminish signs of premature aging while antioxidants like vitamin E and linoleic acid help protect against free radicals. Evening primrose oil and honeysuckle extract contribute other antioxidants and wonderful skin-conditioning benefits.
Why FreshMoist?
Aloe vera leaf juice for its soothing and skin-tightening action on dry skin.
Safflower seed oil for its vitamin E antioxidant benefits and lubrication.
Sunflower seed oil for its linoleic acid (Vitamin F) antiaging benefits.
Honeysuckle flower extract for its antioxidant and conditioning properties.
FreshIntense
This nectar was formulated to be nothing less than your skin's ticket to radiance. It has a luscious yet light texture that soaks in quick, with a soft, citrus-tinged aroma from its natural ingredients. Essential actives like pro-vitamin B5 (panthenol), glycolic acid and vitamin C complement the long list of beautiful botanicals (carrot seed, papaya, evening primrose and MSM) and make this product what it is: an effective anti-aging treatment. While pure plant lipids provide moisture for the skin, glycolic acid makes sure to hold all that water in. Each cell is perfectly plumped and guarded from dehydration for softer skin. Vitamin C, the super-antioxidant that it is, repairs and prevents against photo damage and premature aging. Each application is a collagen-producing stimulation that keeps your skin safe from the threat of sagging, fine lines and deep wrinkles. FreshIntense is a wonderful addition to your natural skincare routine. Scroll down to read about a few of FreshIntense's natural and health-promoting ingredients
Why FreshIntense?
Helps stimulate collagen production
Effectively penetrates skin for deep hydration
Helps stimulate keratin production
Contains botanicals that combat acne
Fights off free radical damage, minimizing signs of aging
Locks in moisture for softer, more elastic skin
Naturally regulates skin's oil production
Powerful antioxidants help repair skin
Helps even out skin tone, minimizing blemishes
FreshRepair
FreshRepair is a lightweight but effective eye gel with peptides that stimulate collagen and elastin regeneration. This stimulation supports the healing and repair response in the skin, refining the appearance of wrinkles and restoring elasticity. Hyaluronic acid, periwinkle, licorice, and MSM ensure deep penetration below the upper dermal layers. Organic jojoba seed oil, aloe vera and vitamin E help restore moisture and protect against the environment.
Why FreshRepair?
Peptides help rejuvenate skin by attracting stem cells to the area on which it is applied.
Promotes healthy, resilient and firm skin around the eyes.
Stimulates collagen and stem cell production, refining the appearance of wrinkles and fine lines.
Helps even out skin tone and restore elasticity.
Powerful antioxidants with anti-inflammatory properties fight free radicals and protect against wrinkles and premature aging.
Cucumber's natural astringent tightens skin and cools the area around the eyes.
Jojoba oil and argan oil help preserve and balance the skin's natural moisturizers.